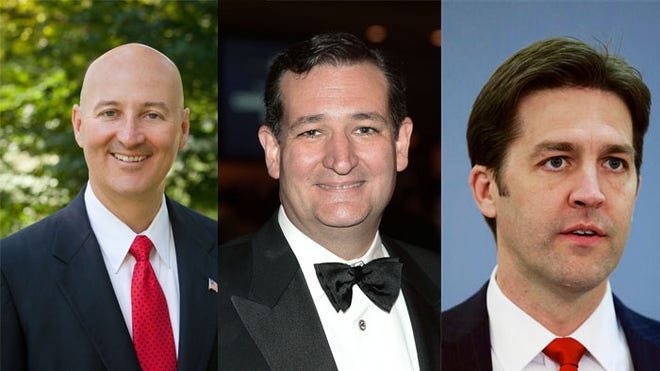 The GOP primary in Nebraska is being seen by many as a symbolic vote, in a way, on the influence of U.S. Sen. Ted Cruz, a Texas Republican, and the Tea Party.
That is because Cruz, a potential 2016 presidential contender, has given his endorsement of Tea Party candidates Ben Sasse, a university president who is running to be the GOP nominee for the U.S. Senate in the November general election, and gubernatorial candidate Pete Ricketts, the son of Joseph Ricketts, the founder of TD Ameritrade and owner of the Chicago Cubs.
Cruz has made public appearances for both Sasse and Ricketts, which, observers say, could boost their chances or backfire if voters see them as pawns of Washington D.C. insiders.
But in stomping for Sasse recently, Cruz said that sending the university president to Washington D.C. would be a way of avoiding picking a representative who would practice status quo politics.
"I'm here supporting Ben Sasse because I believe he has the courage to look in the eyes of the party bosses in Washington and say, 'I don't work for you, I work for the people of Nebraska,"' Cruz said, according to U.S. News & World Report.
If the electorate's verdict on Sasse and Ricketts ends up as a sort of referendum on Cruz, and his clout, as far as Republican voters go, it is also expected to come across as sign of how relevant the Tea Party is, or isn't.
In particular, the race between Sasse and banker Sid Dinsdale, the second leading contender (as far as polls show) for the GOP primary has been cast as part of a national struggle between established GOP leaders and tea party activists.
Having seen their candidates lose in North Carolina's GOP primary last week, Tea Party Republicans are looking toward Nebraska to potentially win their first U.S. Senate primary of the year.
Conservative power brokers are closely following the Nebraska primary, filling campaign coffers in the hope of seeing one of their own fill the Senate seat to be left open by retiring Sen. Mike Johanns, a Republican, published reports say.
The various GOP contenders for Senate do not necessarily have clear ideological differences among them, Politico
notes.
Besides Cruz's backing, Sasse, who has worked in several different roles in Washington D.C., also has the embrace of former Alaska Gov. Sarah Palin, another towering Tea Party figure.
At the same time, local Nebraska-based Tea Party groups endorsed Osborn, who has the backing of allies of Senate Minority Leader Mitch McConnell.
"Nebraskans are kind of the pawn here," said Phil Young, a Nebraska-based political consultant, according to Politico. "The big guys in D.C. are trying to play in our sandbox. But Nebraskans have a real independent streak. They like to make their own decisions."
"They don't want somebody who is owned by Mitch McConnell, but they also don't want anybody who is owned by Ted Cruz or Mike Lee," said Young.
Including Ricketts, there are six Republicans vying for governor. All argue that their experience leaves them best-suited for the job, creating a clear divide: those from private sector backgrounds, who promise a fresh approach at the Capitol, and those with government experience, who say their knowledge will help them accomplish more.
The Associated Press contributed to this report.
- Fox News Latino
related

posts

« Obama: We've Got A Window Of Two, Three Months To Get Ball Rolling On Immigration Reform Colombia's FARC Guerilla Releases Rap Song Promoting Criticized Peace Talks »