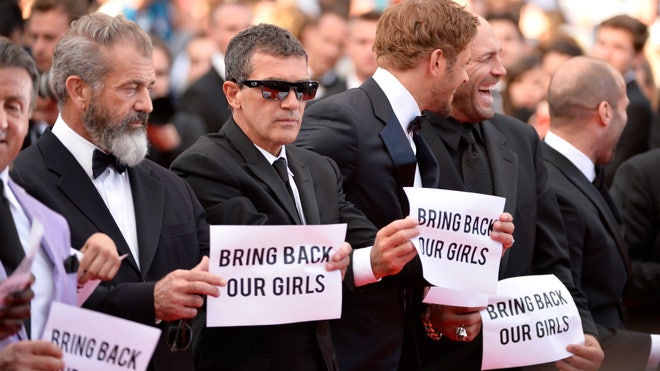 As she sashayed down the runway at Cannes Film Festival in her long, flowing fuchsia gown, Salma Hayek decided to use the platform to make a statement.
So as a throng of photographers captured her every move, the Oscar-nominated actress carried a sign with the hashtag "Bring Back Our Girls" as she walked the red carpet in Cannes, France to preview her animated film "The Prophet."
But she wasn't the only one to use one of the world's biggest stages to draw more attention to the kidnapping of more than 250 Nigerian girls.
The next day, Antonio Banderas, along with his "Expendables" co-stars Sylvester Stallone, Arnold Schwarzenegger, Mel
Gibson, Harrison Ford, Jason Statham and Wesley Snipes, held up bearing the same message.
The phrase has been used on social media in the worldwide effort to bring home the Nigerian schoolgirls kidnapped by the extremist Islamic group Boko Haram a month ago.
Notable figures, including First Lady Michelle Obama, have posed with the message to urge the return of the girls. Despite the multinational effort, they have yet to be recovered.
But the Nigeria kidnappings wasn't the only social issue brought up at the festival. On Friday, the cast of the Turkish film "Winter's Sleep" held up signs with the hashtag Soma.
Soma is the Turkish city where 301 people were killed in an explosion and fire in a coal mine, the country's worst mining accident.
The Associated Press contributed to this report.
- Fox News Latino
related

posts

« Rubio Would Rather Not Say If He Ever Smoked Pot, But Is Strong Advocate Against It Poor Cuban Immigrant Becomes High School Genius, On His Way To MIT »