Since winning the World Cup in 1950 (and the first tournament 20 years before that) the Uruguayan team hasn't regained its international dominance. But that doesn't mean they haven't come close.
The tiny South American nation was one of the surprise performers at the 2010 World Cup, thanks in large part to the stand out performances by the likes of Luís Suárez and Diego Forlán. Everybody remembers Suárez's controversial handball that prevented a late goal and allowed Uruguay to beat Ghana and advance to the semifinals, but La Celeste's success was more about smart ball movement and some impressive long-range shooting from Forlán. And, let's face it, Suárez's play to prevent Dominic Adiyah's header from going into the net may have been unsportsmanlike, but it was heady. And handy.
With many players returning to the squad for this year's World Cup, giving the team a solid mix of experience and energy, Uruguay hopes to better its performance in South Africa. Maybe even win a third Cup title.
Players to Watch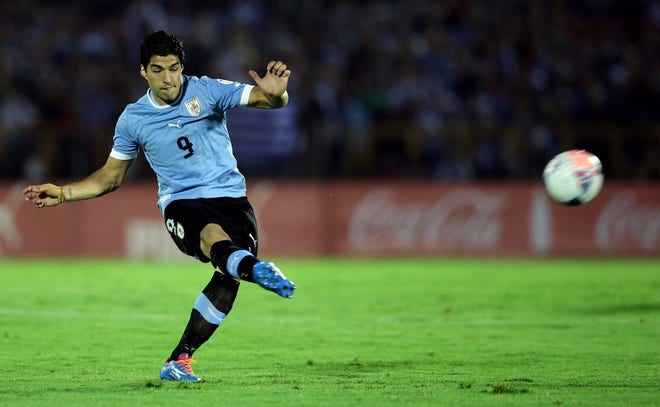 Luís Suárez: Charges of race baiting, biting and fighting with teammates have plagued the fiery Uruguayan throughout his career, but such peccadilloes (or cardinal sins, depending on your beliefs or rooting interests) get overlooked by his prolific scoring ability and dynamism on the pitch. The reigning Player of the Year in England's Premier League, Suárez led Liverpool back to the Champions League next year. A Golden Boot could await him in Brazil.
Diego Forlán: Uruguay's big star in South Africa is getting up there in age (35), and he's definitely lost some of his step in the last four years. But he's still a threat from a distance, and his leadership is unquestioned. He's also been racking up goals in the Japanese first division – how much that may mean is a matter for debate.
Edinson Cavani: The Paris Saint-Germain striker was named the 13th best footballer in the world by the Guardian newspaper in 2013 and is expected to provide some of the fireworks this summer that Forlán provided last time around. His solid performances against both Brazil and Italy during the 2013 Confederations Cup has given Celeste fans high expectations.
Diego Lugano: Lugano, the captain of the 2010 squad, has retained the armband and will have to keep a struggling Celeste defense primed and ready for a group that features an experienced Italian team, a more youthful English side than we've come to expect and a under-the-radar dangerous Costa Rican squad.
Fernando Muslera: The undisputed king in goal for Uruguay for the past five years, Muslera, 27, is an excellent keeper with solid hands, even if he does suffer from occasional lapses in concentration. Currently playing for the Turkish team Galatasaray, there have been rumors about Muslera headed to England on transfer. A solid performance in Brazil could mean a big paycheck come fall.
Coach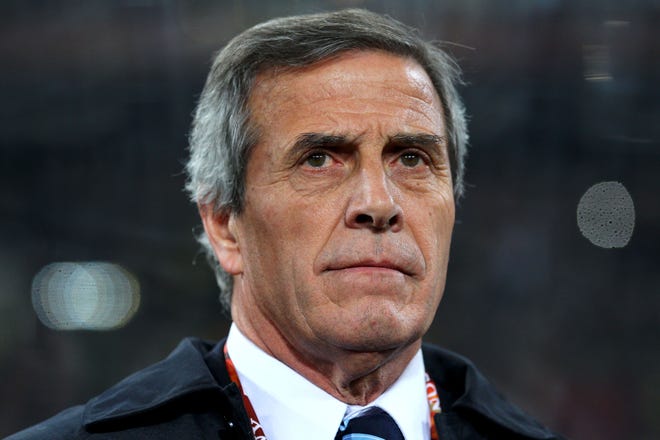 Oscar Tabárez: One of the longest-tenured coaches in international soccer, the 66-year old Tabárez has had stints with AC Milan and Boca Juniors in Argentina under his belt. He led La Celeste during their last run at the Cup in South Africa. The team's up-and-down performance in World Cup qualifying – like Mexico, they needed extra time (a home-and-away series, in Uruguay's case, against Jordan) in order to make it to Brazil. The country's Football Association is in disarray, too. It's unlikely that that will affect much, but if the team washes out of a hard group, heads – and, yes, we mean Tabárez's – will roll.
Group
Uruguay has their work cut out for them in Group D, one of the two so-called Groups of Death in this year's tournament. As long as the players manage to put their demons from qualifying behind them, they should be able to earn three points in their first match against Costa Rica, a psychological boost heading into tougher matches against England and Italy (a team that always seems to find the most annoying way to advance from the group stage). Even so, look for Uruguay to make it to the knockout round, and pity whomever they face there.
Quirk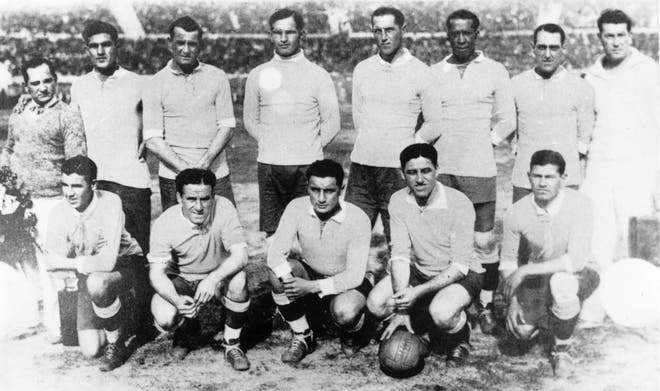 Uruguay holds a special place in the hearts of World Cup fans. The tiny southern nation won the first World Cup in 1930 and became the second two-time winner in 1950 – far and away, the smallest country in population to ever win the Cup. Oh, and by the way, that 1950 championship? They won that in Brazil.
Schedule
v. Costa Rica, Sat. June 14, 3 p.m., Fortaleza
v. England, Thurs. June 19, 3 p.m., São Paulo
v. Italy, Tues. June 24, 12 p.m., Natal
All times Eastern
- Fox News Latino
related

posts

« Don Omar – Angelito Aaron Hernandez's Tattoos Could Reveal Clues In Murder Case, Artists Sought »